Temps de Flors – Thousands of flowers, blossoms, branches, twigs and colourful installations decorated the historic centre of Girona for a week in May 2019. Despite the rain, on the first day of the 64th
Long queues at Temps de Flors
Temps de Flors, the streets of Girona's old town were filled with a colourful crowd and with long queues in front of the Arab baths, churches and stately houses around the cathedral.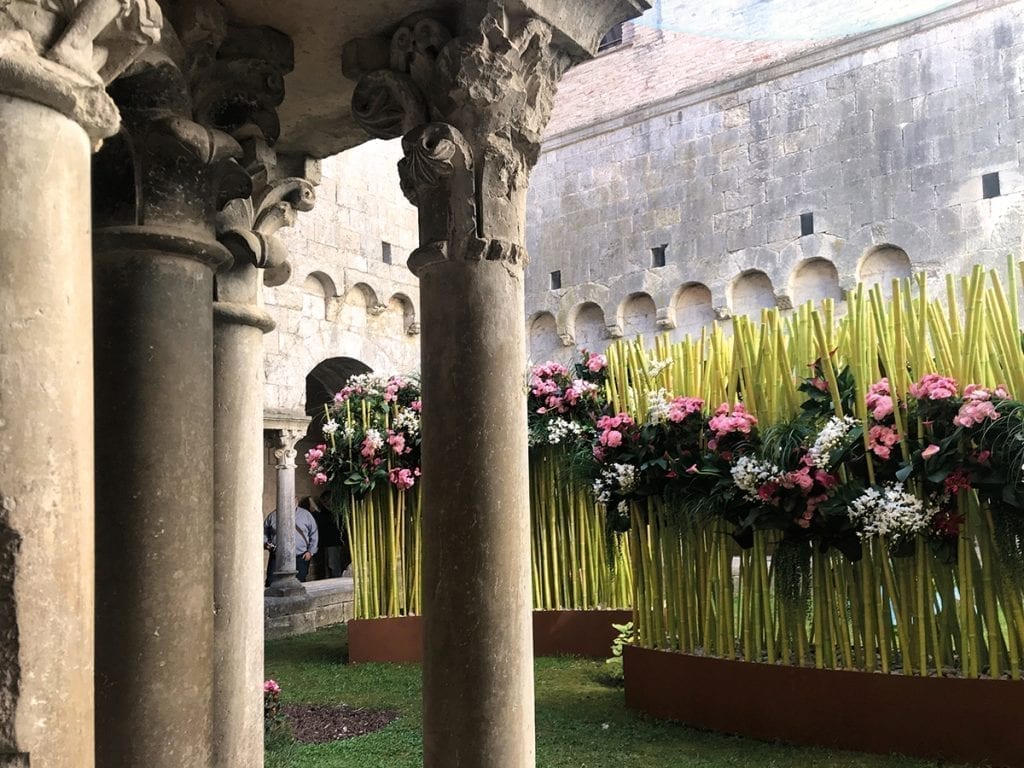 Opening Temps de Flors 2019
Everybody was hoping to cheat the rainy weather on the opening day by visiting the indoor highlights. We decided to wait for nice weather for our traditional Costa-Live photo session "Temps de Flors" and skipped the opening day this time.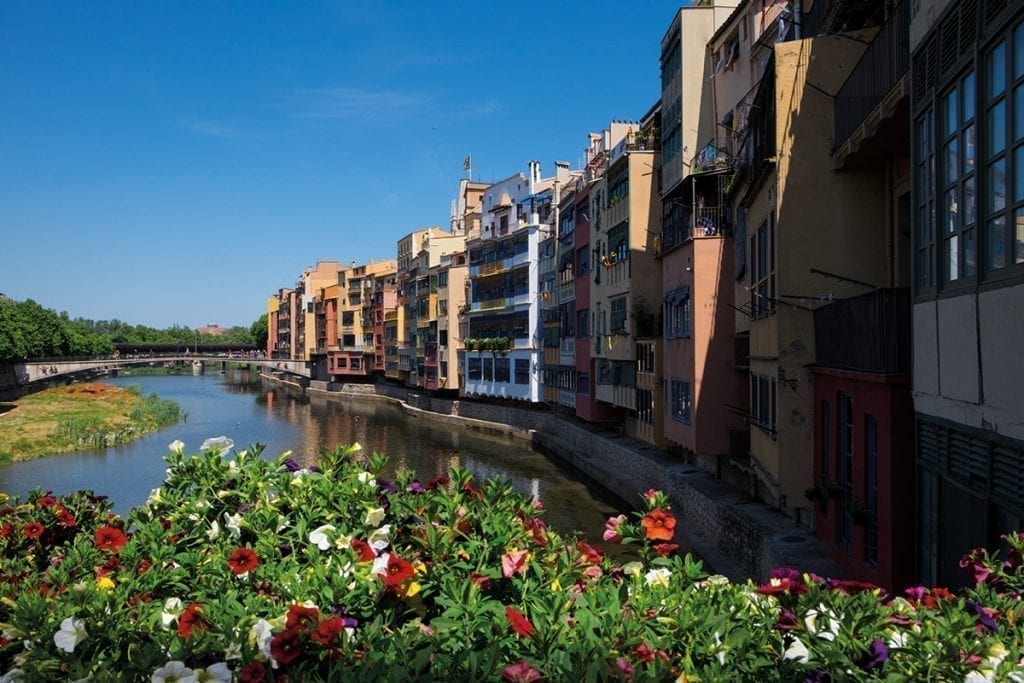 Today―the 4th day of the flower festival― it's sunny here at Costa Brava and we are on a discovery journey. We are looking for a special angle, for installations in hidden corners and whimsical arrangements on public streets and squares.
"Sac de llavors"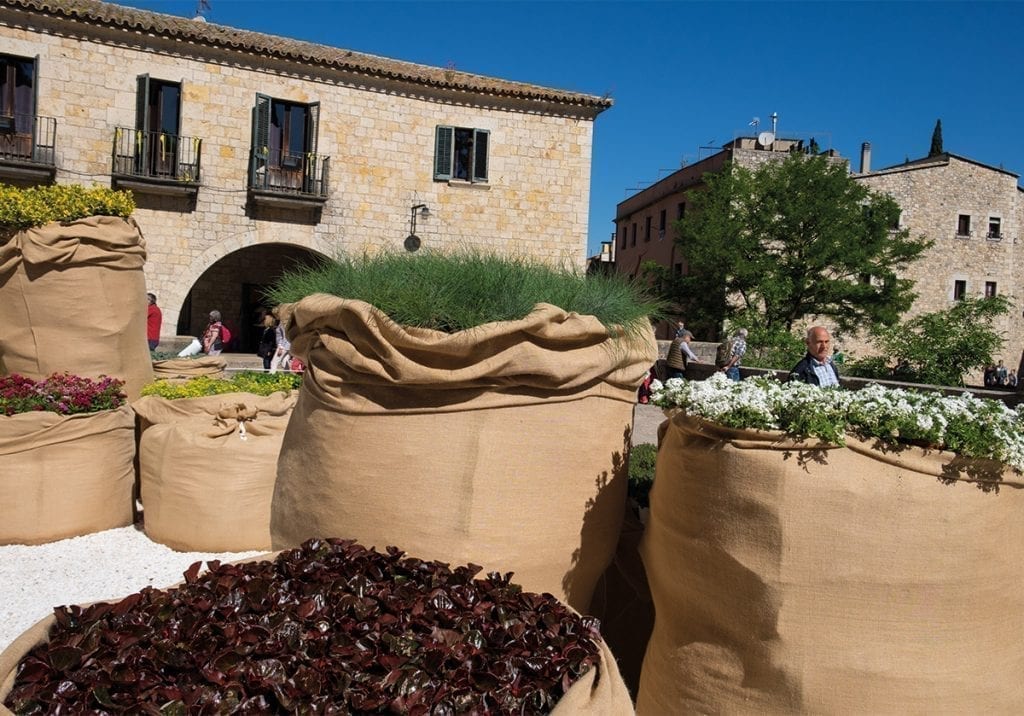 There are colourful and sometimes crazy things to discover on facades and in archways: A rendezvous of florally planted oversized jute sacks ("sacs de llavors") takes place on the Plaça dels Jurats; after going up the stairs we meet a curtain of water drops, angels of blossoms have gathered in the claustre and sublime golden apples sprout in front of old church walls, water bubbles out of golden trophies and blue-golden brocades blow in the wind …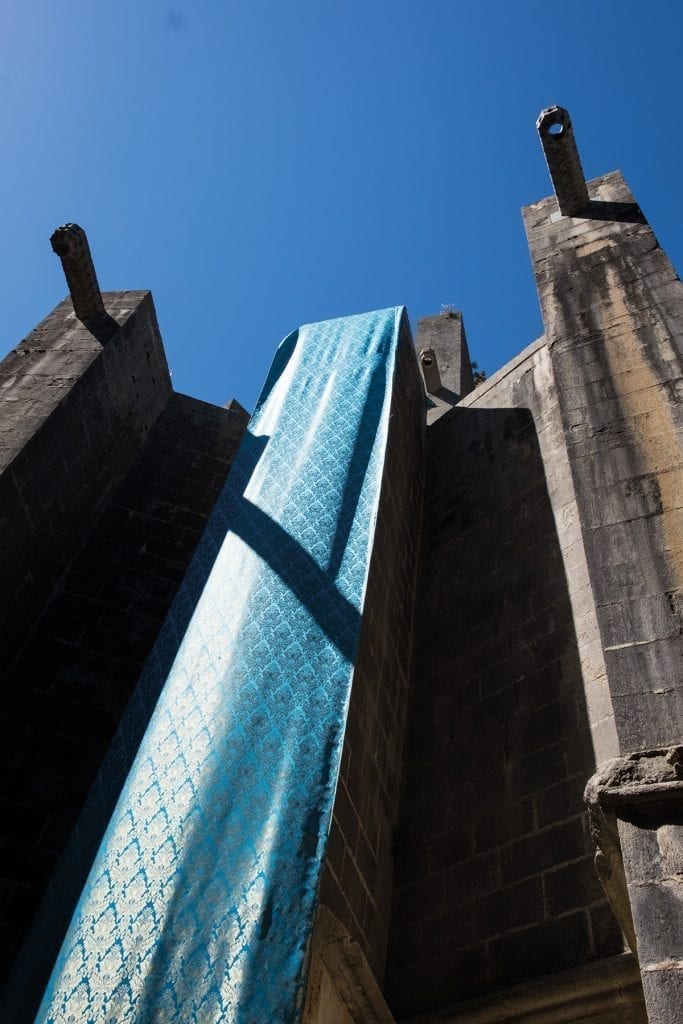 64. Temps de Flors are 137 floral installations
137 floral installations are marked on the city map of the 64th Temps de Flors. Hardly anyone can do all of them in one day. We let ourselves drift and just follow the stream of visitors and our intuition. Putting your tired feet up is mandatory after a few hours walking around the city.
Project "Pla V"
If you don't get a place in the street café, we recommend you the project "Pla V". This is also part of the tour and takes the visitors of the city to beautiful natural places. Thus, this year, you can relax on the grass during the route of the terraces before, perhaps, patiently joining the queues in front of the most popular exhibition points like for example the Arabic baths. We decide to look for a small restaurant for a lunchtime snack.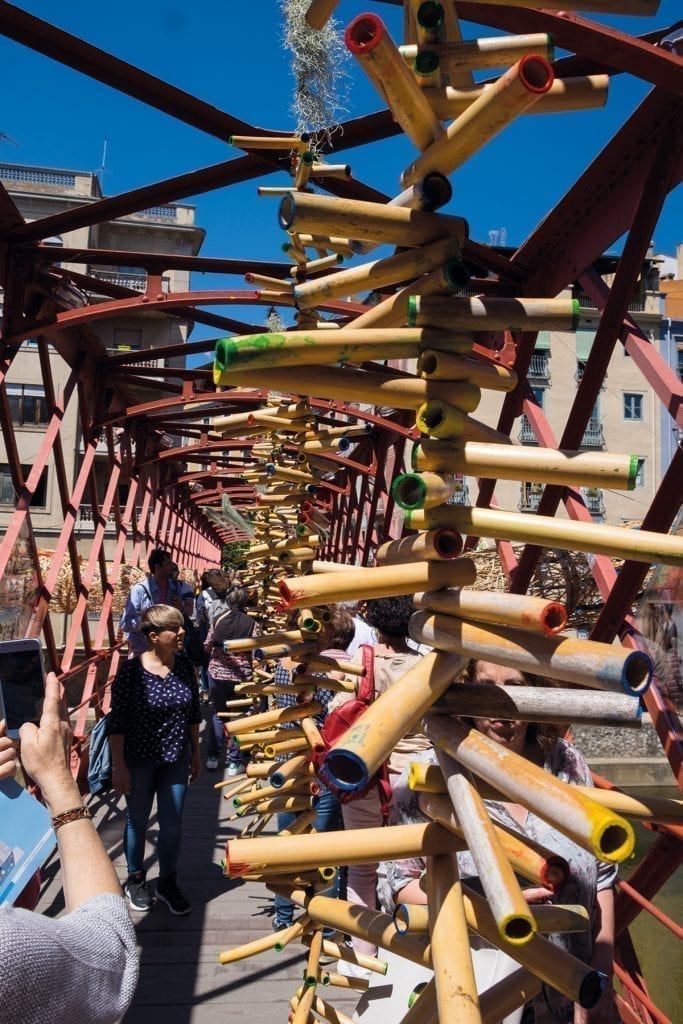 Temps de Flors 2019 in the afternoon
In the afternoon, we stroll a little further through the alleys, get into one or the other boutique and stroll across the bridges over the river going slowly back to the parking lot in front of the gates of the old town. On the way, getting an ice cream at Rocambolesc is mandatory: colourful, sweet and seductively tasty, the ice cream shop of the Roca brothers lures gourmets from all over the world to its counter. After all, the owners have already cooked their way into getting three Michelin stars with the Celler Can Roca and are celebrated international gourmet stars. Matching Temps de Flors there is of course also a special offer here in the form of a flower. What did you discover at Temps de Flors 2019? We are looking forward to further impressions for the next CL.
Temps de Flors Blumen

Water feature Girona

Girona Temps de Flor

Cathedrale : Installation of bambus

Angel

Small shop in Girona

Pink installation

Cathedrale in Girona

Golden fountain

Well spring of gold

Girona

Girona Water feature

Arches in a courtyard of Girona

Arches in Girona

Peacock feather

Temps de Flors Girona

Installations in the streets of Girona

Installations of shadow